Hover over the highlighted spots to see more
Tap on the highlighted spots to see more
Choose Frame colour

White

Satin Black

Anthracite Grey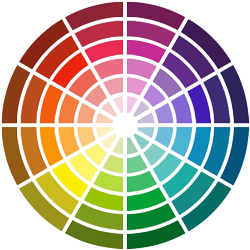 Custom RAL
Colours
Choose Cornice Type
No Cornice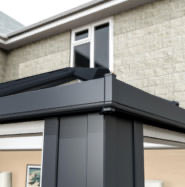 1 Tier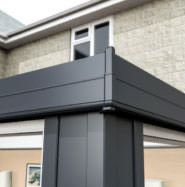 2 Tier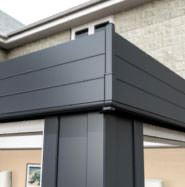 3 Tier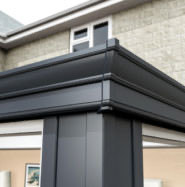 Curved
Choose Ridge Type

Classic Ridge

Slimline Ridge
Choose Glass Colour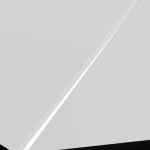 Neutral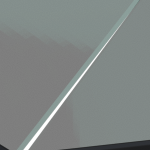 Aqua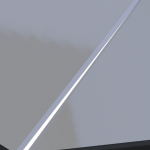 Blue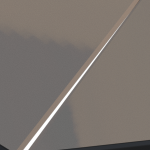 Bronze
Classic Style
Slimline Style
Weather Tested
Unique top caps and adjustable speedlocks designed to optimise glazing bar compression.
Sturdiest, most durable gaskets and glazing stops.
Triple layer storm shield at radius end.
Watertight in winds up to 130mph.
Easiest
Loaded with features for a fast fit, first time, every time.
No cutting or drilling on site for less mess.
The most simple and intuitive roof to fit.
Click-fit speedlocks and top-caps.
Versatile
Advanced software to instantly validate structural requirements of any large shapes and complex designs.
Low pitch eaves beam and variable ridges for pitches from 2.5 to 40.9°.
Integrated structural solutions for large spans of bi-folding doors.
The most configurable roofing system available.
Trusted
The first roofing system to be approved by the BBA.
The original and most loved glazed roof.
Made in Britain for over 35 years.
Over 1.5 million roofs installed.
Safest
Specialist software engineers every critical element of the roof for optimum deflection, compression and tension.
NASA satellite data used to calculate the maximum wind AND snow load requirements.
Super strong eaves beam, ridge, valley and jack rafter.
The only glazed roof engineered to postcode.
Customisable
Create thermally efficient, cosy and stylish rooms with insulated pelmets and columns.
Add shape and elegance externally with a choice of four unique cornices.
Finials and crestings to suit all tastes and budgets.
Bespoke colours in painted aluminium or foiled finishes.
Unbeatable range of design options.